The Valentine's season can take a toll on your mental health, regardless of your relationship status.
Some people tend to compare their relationships to the Hollywood stories that they see in the movies. Others feel under pressure, especially with the advent of social media. Whether you're single or with someone, the so-called month of love can remind us of how lonely we are and make us feel bad about our social skills or anxieties.
Love can be beautiful, but it's also unpredictable, surprising, and sometimes even damaging to our mental health. This article is designed to encourage you to start showing yourself love by improving your confidence, whether you're single or not. It also aims to increase your self-esteem and help you cope with this celebration more positively, whether you love it or hate it.
Re-evaluate Your Boundaries
Whether you're dating or just enjoying time to yourself, knowing your boundaries can help make you a stronger person in the face of challenging situations. You must know what you deserve and what's unacceptable, start to practice saying 'No,' and address situations where you feel you should be treated differently.
Keeping open communication with your partner, family, and friends is vital to keeping your relationships healthy. However, it's also essential that you check in with yourself regularly to examine how you feel. Once you begin to learn your boundaries and set them in place, you'll become more empowered, and you'll see your self-esteem rise.
Ignore Social Media
Most people tend to showcase their best sides on social media. It may be a seemingly perfect relationship, the ideal job, the best friends, the good gifts, or the luxurious get-away. But you should remember that people only show you what they want you to see.
They might be living a great life, but everyone has flaws and has struggles of their own because they're human too. If you think you're vulnerable and you want to evade all the romantic posts this Valentine's season that might hurt your self-esteem, take a break from social media and devote that time to improving yourself instead.
Read a book you've been wanting to read, spend time learning how to cook your favorite meal or invest in yourself by taking up a new class. If you can't do these things, then remember to take everything for what it is – just a post on social media, and not always the whole truth.
Realize that There Are Different Ways to Express Romance
Some people are born romantic. Whether they are single or in a relationship, they often enjoy the celebration and the general romantic feeling it brings. But romance can be different for other people, and they will find the idea of celebrating Valentine's Day an uncomfortable event.
Different people like different gifts too. Some prefer time and honesty, some a hot drink with a good conversation, or a leisurely walk along the beach. Others may want a more extravagant display of affection. Still, in a relationship, it's essential to talk about your differences and be confident to share what you need with another to make sure you're comfortable. If you expect the other person to be a mind reader, it can only create friction.
Manage Your Expectations
A lot of people sometimes get a bit carried away with romance movies, but you rarely see this kind of romance in real life. So, try addressing situations with no expectations. We're not telling you not to hope for a card or small gift, but Valentine's Day can lead to arguments when expectations don't match.
It can also harm your self-esteem if your partner doesn't put the same effort as you have, or put in as much thought as you expect. This can be a problem not only in new relationships where you're still getting to know each other but to long-term commitments as well.
If you are single and fancy giving yourself some self-love, do something beautiful for you. Get your hair done, buy yourself new shoes, have dinner at a fancy restaurant, have an hour of uninterrupted alone time reading a good book or watching your favorite film, or do whatever it is that will make you feel good.
Don't Damage Your Mental Health
We can all feel pressured to "perform" well. Whether it's buying a good gift, planning a romantic gesture, or just generally pleasing a loved one. The most important thing you can do is look after your mental health. Don't buy an extravagant gift if it's going to get you in debt and grow your anxiety. Don't do things that will make you uncomfortable if only to impress someone. Your loved ones care for your mental health more than what you do for them or give them.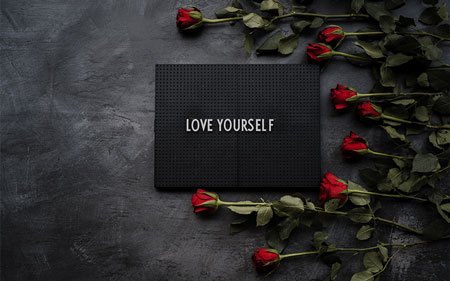 If you're coping with a mental health issue, it can be hard to step back and see the other side of yourself. Think of yourself as a diamond that has a lot of different facets, and your mental health issue is just one of them. You have a lot of other sides that show your qualities, so don't be too hard on yourself.
Don't Torture Yourself for Past Choices
The Valentine season can cause you to look back on your previous relationships and decisions, and it can lead you to be hard on yourself. You can blame yourself for your own mistakes, but remember that it doesn't matter where you've come from, what matters is where you're going, and you can choose where that is.
Help Your Partner Suffering from Mental Illness
If you're with someone who has a mental illness, make sure to keep communication flowing so you can learn how to support them. Ask them what will help them feel better, when they are happiest, and what's the best thing you can do to support them.
Give them time to explain their feelings and their needs. When you spend time discussing with your partner about their mental health, you not only help them, but you also make yourself feel empowered and better equipped to support them too.
If you know someone who has mental health issues, please get in touch with Phyllis Tonkin, LCSW today at 713-206-5156 or 713-668-6666. You may also send us an email at [email protected], and we will be happy to set you up for an appointment.